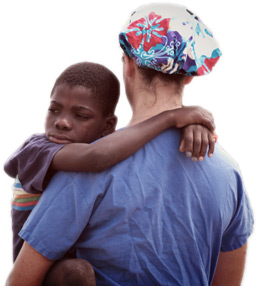 "We are shocked and distressed when we see the devastation and number of lives lost in a natural disaster. But there's a tsunami of deaths in West Africa every day. People live in fear, hopelessness and desperation."
Don Stephens
President/Founder of Mercy Ships
---
In many developing countries, even basic medical care is a luxury. And in Africa, nearly 50 percent of the people have no access to a hospital or doctor.
Children, teens, adults and the elderly suffer and die every day from curable or treatable causes.  Every year, 6 million vulnerable children die from preventable diseases such as malaria, diarrhea and pneumonia.  One child in eight will die before age 5.
The challenge is enormous, but don't let the statistics numb you. Every number has a name, a face and a story.  And they will break your heart.
For more than 30 years, Mercy Ships and its committed partners and volunteers have followed the model of Jesus to bring hope and healing to the world's poor one life, one community and one nation at at time.
Join us and help make a difference: