Tori Hobson has a full heart.
"Seeing the transformations is amazing," she said. "Miracles happen before our eyes here."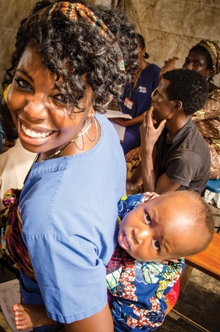 Tori, 24, volunteers as a ward administrator in the Africa Mercy's hospital. She first served onboard for six weeks with her mother 11 years ago. She returned in July 2011, less than three years after her mother died of cancer. Now on her second assignment as an adult, she will volunteer until December 2013.
She works long days providing administrative support in the hospital – ordering meals, handling admission and discharge paper work, and scheduling patient appointments and shifts for nurses.
The work is hard, but there are the times when she is overwhelmed with joy.
"One day I was walking down the hall in a hurry," she said. "The worship team was playing and I stopped to take it all in. Here we were in West Africa serving all of these wonderful people and worshipping God at the same time. I was overwhelmed with thankfulness and joy for everything. Everything about this experience was captured in that moment and I was almost brought to tears. I was busy, but I had to stop and soak it in."
Tori, who worked in a California coffee shop before volunteering, had never thought about returning after her mother died. Then a friend suggested that she explore the possibility.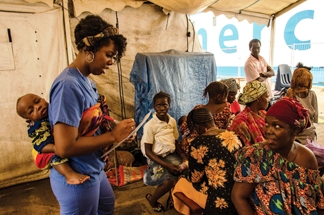 "I thought Mercy Ships was a one-time deal," she said. "I didn't know that returning was an option. I didn't know what I could possibly do for Mercy Ships. I thought I had to be a doctor or surgeon."
She thought and prayed about the opportunity. Then a door opened.
"There's absolutely something for everyone to do no matter your age, gender or ethnicity," Tori said. "We are here to help and love people. If you have a full heart and are ready to work hard, you can serve here."
When she returns home, she'll encourage others to step out of their comfort zones to bring hope and healing to the world's forgotten poor.
"I'll share what I've learned and hope I can reach people who want to do something similar and make a change," she said. "You don't have to be a bigwig to make a change. It's the little things that make a difference."