Fooday started life tenuously, but medical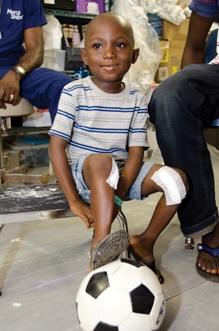 care provided by Mercy Ships in West Africa has brought healing to his body and hope to his family.
"Fooday was born prematurely," said his father, Aladji. "He was so tiny and weak, we didn't think he would live."
He survived, but his medical problems were only beginning. When he started walking at 18 months, Fooday's legs were bowed. Aladji began begging on the street to pay for herbal treatments from a traditional healer, but the abnormal curve in his son's legs only got worse.
"Fooday had pain that kept him crying all night," said his mother, Yakha. "But worse was the shame and hurt that I knew he would go through with bent legs." She was right. When he started school at age 5, the other children teased and insulted him mercilessly. His parents decided that he would be safe only at home, so he stopped attending school.
Then Yakha heard on the radio that a hospital ship was coming to their country, Togo, to provide free m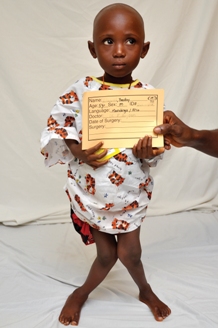 edical care. Three weeks later, Fooday was onboard the Africa Mercy  for surgery. A small metal plate in the shape of a figure-eight was attached to bones in his legs. The plate slowly corrected the bow in his legs and allowed his bones to grow straight. This technique avoids a much more traumatic operation that requires bones to be broken and reset.
Fooday returned to school, and the dramatic change in his legs amazed his classmates. Eighteen months later, he and his parents traveled again to the Africa Mercy,  which had relocated to Guinea, to have the plates removed. At the same time, Aladji had an appointment at the Mercy Ships Dental Clinic to take care of four decayed teeth and infected gums.
As they celebrated, Aladji shared a moment with his son. "Fooday, thanks to Mercy Ships, it is happy teeth for me and back to school for you," he said.