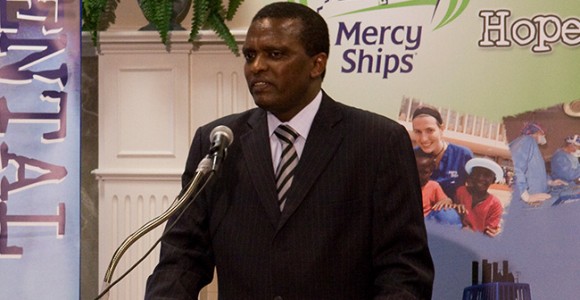 GARDEN VALLEY, TX, February 10, 2010 – Azarias Manywa Ruberwa, the Former Vice-President of the Democratic Republic of Congo, addressed Mercy Ships personnel at the global charity's international headquarters in Garden Valley, Texas today.
Born in 1964, Ruberwa was one of four vice-presidents in the transitional government of the Democratic Republic of Congo between 2003-2006. He has been president of the Rassemblement Congolais pour la Démocratie since 2003 and was an unsuccessful candidate for president in 2006. He is a member of the Banyamulenge community of South Kivu, who belong to the Tutsi tribe. Ruberwa was trained as a lawyer and is practices law in Kinshasa today.
"I met the Former Vice-President of the Democratic Republic of the Congo (Kinshasa) a year ago at the Washington DC National Prayer Breakfast where he was a keynote speaker at the All-Africa Prayer Breakfast. The Vice-President is from the Tutsi Tribe. Many of us remember the genocide in neighboring Rwanda, where an estimated one million Tutsis died in 100 days. In fact, he had to flee his country with the help of missionaries.
When he returned, Ruberwa's leadership – based on forgiveness, justice, and the rule of law – was a primary force in establishing the beginning of a peace process in the Eastern Congo, which is still to be permanently resolved," said Don Stephens, Founder and President of Mercy Ships.
Ruberwa described the harrowing experience of escaping the oppression of the Tutsis in Congo by flying to Zambia on a small airplane operated by Missionary Aviation Fellowship. He ended up in a "no man's land" between Congo and Zambia. He said, "Even when no country will take you, God is with you. As I look back, I can see God's hand was shaping me." Fortunately, he was able to re-enter his country when it was liberated and played a pivotal role in establishing the Democratic Republic of Congo.
Ruberwa spoke about his humble beginnings and the importance of faith. He said, "If God can use someone like me, He can use someone like you."
"Haiti gripped our hearts and moved almost the whole world into action with the estimated 200,000 who lost their lives. This tragedy is on such a scale that it boggles the mind. However, there is another 'earthquake' that is largely unnoticed. More than 200,000 children under the age of 5 die every week – all 52 weeks of the year – from hunger and preventable diseases. One in five children (20%) born in Africa will not live to see their fifth birthday," added Stephens.
Mercy Ships is active on both fronts. Disaster Response Teams are on the ground in Haiti, and the state-of-the-art hospital ship, Africa Mercy, arrived today in Lomé, Togo, West Africa. The Africa Mercy will be docked in the capital city of Lomé from February until August providing state-of-the-art medical care and establishing medical capacity in areas of significant need of health care services.
Volunteer surgeons contribute their services and perform surgeries such as correcting cleft palates, restoring vision, and removing tumors and cataracts. Medical and dental teams will establish clinics throughout the area to provide services that are common in the western world, but rare in Togo. Mercy Ships teams are focused on leaving a lasting footprint in the regions they serve.